Between the worlds: A:e business intelligence analyst:in (BI analyst) combines two different subject areas and that is exactly why it is so valuable for companies.
BI (Business Intelligence) is a corporate process in which collected data is prepared, visualized and evaluated. The goal of this process is to gain current economic insights for companies.
Business analytics, on the other hand, focuses primarily on future developments. These two areas are covered by a Business Intelligence Analyst (BI Analyst). But what exactly does a BI Analyst do? What is the difference between BI Analyst and Data Scientist? How do you get a job as a BI Analyst? You can find out this and much more in the following article.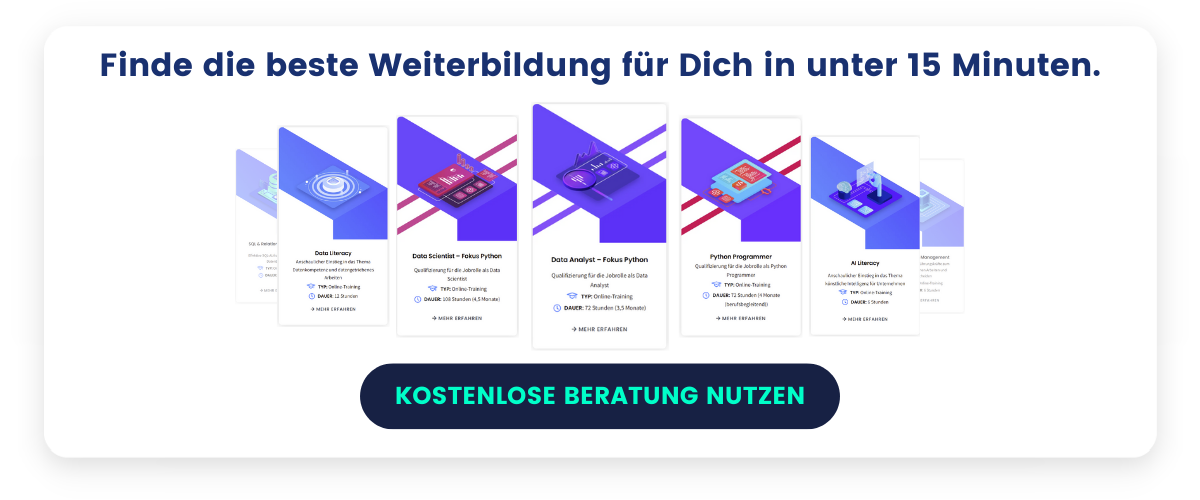 What does a business intelligence analyst do?
As a business intelligence analyst, your job is usually to visualize and evaluate data that has already been cleaned in order to gain business-relevant insights for the company. From these findings, you can propose solutions to current problems or prepare concepts for optimizing processes. Both technical and economic aspects are considered for the concepts.
As a BI analyst, you have the task of communicating with stakeholders and facilitating their decisions by means of visualized data. Business intelligence analysts are supposed to provide knowledge about whether processes are running well or poorly and how they can be improved. In most cases, business intelligence analysts have an advisory role.
What is the difference between Data Scientist and BI Analyst?
At first glance, the activities of a data scientist and a BI analyst seem identical. But the differences lie in their areas of application. Although many of their activities are similar and a Data Scientist can take over many of the tasks of a BI Analyst, their skills and tasks are not completely congruent. Data Scientists work with structured, semi-structured and unstructured data.
BI analysts, on the other hand, work mainly with structured, already prepared data, since the focus is on gaining immediate insights rather than on data analysis. Data Scientists are expected to implement Machine Learning in the company to drive automated processing and visualization of data. BI Analysts are more responsible for reporting insights to executives.
Although BI Analysts also have the ability to anticipate future events, the focus is more on current processes and problems. The job of data scientists, on the other hand, is to anticipate future developments, especially with machine learning algorithms.
These are the skills and abilities you need as a Business Intelligence Analyst:in
As a Business Intelligence Analyst, you will be required to have a very broad skill set. Not only hard skills like programming knowledge or the ability to visualize data with different programs are expected from you. Above all, you should be able to communicate data and credibly present your new findings to an executive.
Hard Skills:
Programming languages: Python, R, SQL, VBA
You'll be relieved to know that you don't have to know all of these programming languages to work as a business intelligence analyst. However, you should have basic knowledge of SQL and either R or Python. The more programming languages you know, the more flexible you are and the more interesting you are for employers. However, you can also learn many of them during your work as a BI Analyst. Here it helps your career to stay open to technological developments.
Data Visualization: Power BI, Tableau, SAS, Excel
Like a Data Scientist, a BI Analyst must be able to visualize their findings based on data. To present this data in an appealing way, BI analysts use programs such as Tableau, Power BI and SAS.
Soft Skills for BI Analysts
However, becoming a BI Analyst requires more than just knowing programming languages or being able to visualize data using Power BI or Tableau. You can also shine with your personality. More specifically, with the following soft skills
Communication Skills:
A BI analyst should have the ability to communicate his or her findings in a way that allows people without a technical understanding to follow his or her reporting.
Presentation Skills:
As a BI Analyst, it is important to be able to present your findings and analyses in a convincing and understandable way. A BI analyst has the task of convincing executives with data, i.e. hard facts.
If a BI analyst fails to convince the decision makers:in and make the topic understandable, decision making becomes even more difficult.
Business Understanding:
As a business intelligence analyst, you should have a certain basic understanding of business administration so that you are able to understand the various business processes of a company. In order to be able to communicate your findings between different departments, an understanding of the different business processes and their business interrelationships is very helpful.
Analytical Skills:
In order to gain any insights at all from the data, as a BI analyst you must be able to think analytically. You should also avoid being led in the wrong direction by initial assumptions. As a BI analyst, you must be able to draw conclusions from the data as to how the various economic processes are doing.
This is how much you earn as a BI Analyst:
Since many companies are trying to optimize business processes with the help of data analysis, BI analysts are currently in high demand. However, the demand for data experts cannot be met at present. This ensures a very high demand for specialists in this field and a favorable job market for those who want to gain a foothold as a BI analyst.
That's why the average salary of a BI analyst across Germany, according to Glassdoor currently at 56,652 euros per year. Depending on professional experience and the size of the company, the annual salary can also rise to 71,590 euros. Salaries above this are also conceivable.
How do you become a BI Analyst?
It is often said that you need a degree in fields such as business information systems or information systems to work as a BI analyst. While such a degree is welcomed and makes it easier to start a data career, it is not mandatory. If you are highly motivated and always continuing your education, you can also shine in job interviews and convince potential employers.
The demand for employees with data skills is currently very high. This ensures that career changers also have the opportunity to work as a business intelligence analyst. There are many different digital training options to help you make the transition to BI Analyst. The Further training to become a BI Analyst from StackFuel you can even start without any previous knowledge.
In our online training, you will learn the basics of Power BI and how to visualize data with Power BI. You'll also learn how to analyze data and how to communicate the insights you gain from the data to your manager using data storytelling, for example. These skills will prepare you for your lateral entry and practical work in your day-to-day job.
If you would like to learn more about the topic of BI Analyst, please inform yourself about the Training procedure and your Funding opportunities.
Sources:
t3n digital pioneers (2019)"What does a business intelligence analyst actually do??" [02.09.2019]
Towards Data Science (2020) "Data Scientist vs Business Intelligence Analyst. Here's the Difference." [16.12.2020]
Martin Grellmann (2021) "Data Science vs. Business Intelligence" [28.03.2021]
Glassdoor (2022) "Business Intelligence Analyst Salary in Germany" [07.10.2022]
---